A dog bed without waterproofing can cause many problems for dog owners, especially if your puppy urinates or lies on the bed after going back from the rain. Hence, it is essential to make a DIY waterproof bed for your beloved dog to save money.
Let's dive into this post on "How To Make A Waterproof Dog Bed" for more details.
Why Are Waterproof Dog Bed Covers Important?
First of all, let's take a look at how and why having a waterproof dog bed is extremely important:
An old dog has become incontinent.
The puppy has been sick and perspired constantly.
A new baby puppy comes to your home.
Your active dog gets dirty and wet after playing outdoor.
The dog has stomach problems that cause diarrhea.
If your dog owns a simple bed without waterproof capacity, you will need to wash the entire bed every time it gets dirty. In this case, using foam to wash makes the quality of the bed degrade after each wash, which is a headache issue.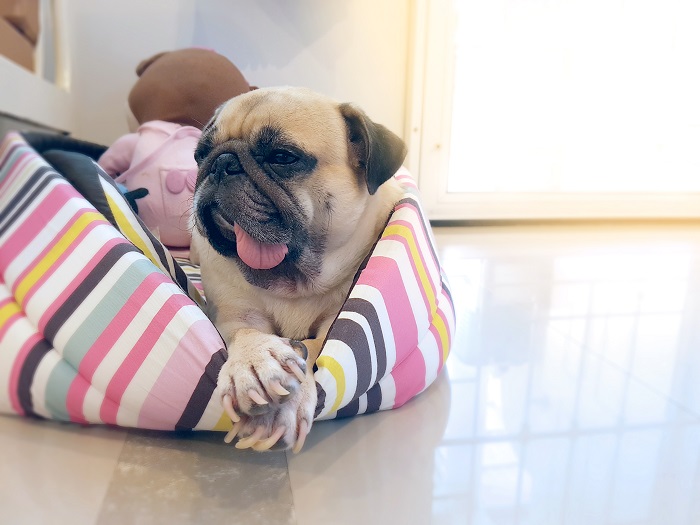 How To Make A Waterproof Dog Bed?
You can purchase a ready-made waterproof bed for your dog to save your time. However, making it yourself is a great idea to help you save more money. You can also easily make a waterproof bed from your existing or any old bed into your favorite style. There are five simple steps you can follow:
Step 1: Prepare Supplies
Before starting, keep in mind that not all beds you can convert to waterproof ones. We recommend you to use the ones with flexible covers and can access the foam inside.
After you've understood its converted ability, you have to prepare all of the below items:
Shower Curtain
Foam
Durable fabric for cover function.
Scissor
Tape measure
Water-resistant tape
The sewing machine
Step 2: Clean The Bed Of Your Dog Carefully
Having a clean space and product before getting started in anything is essential, as it will bring you comfort and effort.
Moreover, if your current bed owns a removable blanket, put it into the washing machine and scrub beneath it with a brush and dustpan or even a vacuum cleaner. Make sure that everything is all dry before turning it into the following step.
Step 3: Cover The Bed's Main Part By A Plastic Liner
You could use any type of liner as long as it's made of a water-resistant like PVC. However, we would strongly advise using bin liners as inexpensive and can be reused several times with no effort.
Polythene dirt sheets or moisture-resistant membrane sheets are other replacements to bin liners that could be a little stronger.
If you have a bed with reversible covers, all you have to do is add the liner to your foam part to remain dry and intact.
Furthermore, use a kind of water-resistant tape to seal the cover.
Step 4: Add A Space Blanket
To keep the blanket warm and nice, we suggest putting another layer cover on top with a space blanket. These are also known as rescue blankets which people commonly use for getting themselves into trouble when out somewhere in the outdoor activities.
Additionally, the space blanket is also durable, helping keep the bed from clawing and scratching.
Step 5: Put Back On The Cover
When the internal foam or the whole bed has been covered and secured with both the cover and the blanket, it is time to cover all with the dog blanket to conceal the waterproof layers you have made to make everything appear like a regular bed.
Note: The cover of the bed and blankets' duty is to save the waterproof layer from being torn up. Hence, the waterproofing you've applied to the dog bed can last long or short will depend on how durable the sheets are.
Replacement may be necessary if your puppy has a habit of digging and ripping all the time; it does not cost too much to do this work.
The Verdict
You should be clear about the process of making a waterproof dog bed. With simple supplies and an old bed, anyone can make a cute DIY one for the puppy. After that, you won't need to worry about the cases that your dog causes wetness. Let's try it now!
We hope you can successfully follow these five simple steps on How To Make A Waterproof Dog Bed Do not forget to leave some comments about your experience in the comment box below. Good luck!