Humans have invented dozens of ways to shield themselves from the harsh environment by using umbrellas or nifty rain boots. Now with portable technologies attached to themselves at all times, the stakes are way higher. This guide will provide you with a detailed guide on how to get a waterproofing backpack – an important skill for everyone!
Waterproofing Backpack – How To Get Them?
The weather is unreliable and unpredictable, which can ruin your trips completely and put everyone involved in utter discomfort.
You may ask yourself: "Why can't I just buy a waterproof backpack from the store?" and start pondering about where to buy waterproofing backpack. The truth is most backpacks advertised as "waterproof" are merely water-resistant, which means that the bags can retain only a certain amount of liquid until all hell breaks loose.
Hence, you should not completely trust a bag to be waterproof on its own. So here are a few solutions to help you out!
1.Spray & Sealer Combo
Some people might overlook or underestimate this method as it's easy and cheap. However, this technique is pretty common and popular among hikers and tourists alike.
Walking yourself to the store and grab a bottle of spray that fits your bag size. Most people will go for a 10-ounce spraying bottle since it's the most flexible of all.
After covering the entire body of the backpack (don't forget the underside!), it's time to take care of the seams. The simplest solution is to apply a seam sealer, which typically does what the job description entails.
Most sprays currently on the market can last from three weeks to three months on fabric. Besides, the formulas for these products have improved constantly throughout the years to take their users' worries off their rucksack on their journey. This fact is especially helpful while waterproofing canvas backpack!
Be mindful that no spray can make your bag completely waterproof, therefore, if you're kayaking or doing any sports that may risk your bag being dipped in water often, consider combining the spray-sealer combo with other methods below!
2.Rain Cover
If carrying around two bottles isn't exactly your type, as having those in your backpack isn't very space-economical. Why don't you try a rain cover?
As the name implies, Rain covers are waterproof sheets with one tight opening for you to stretch and shove your bag inside. Despite being very effective against liquid, the material is very thin. You can roll, fold or scrunch up your covers in the corner of your backpack once dried.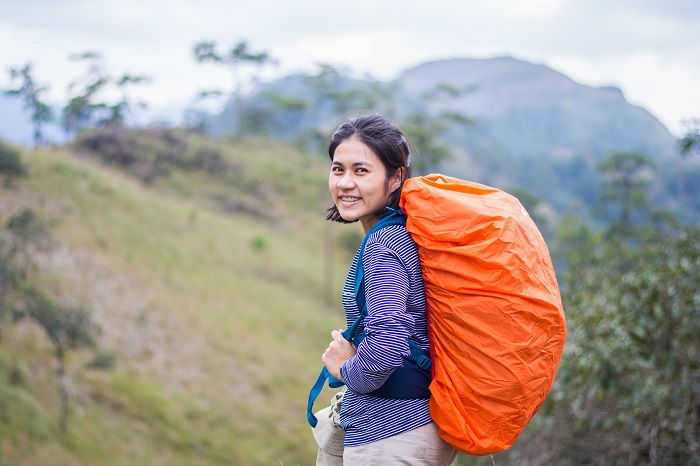 However, after all, nothing is perfect. There are two major downsides to using rain covers: They do not prevent your bag straps from rain, and they can wet other stuff in your bag if not dried out completely before storing.
3.Pack Liner
Use a pack liner, start by lining it inside the backpack, and put your items in it as you would as usual. Once you've finished it, squeeze the liner to bring all the air out and tie a knot with the drawstring. Besides, don't forget to stuff the string back inside before shutting your backpack; otherwise, water can leak in.
If you want to be extra careful, feel free to apply the spray-seal combo on the outside!
4.Old Raincoat
Don't toss out those old raincoats and ponchos just yet; they deserve to have a second life! You can do exactly what you did with the pack liner with these old fabrics to prevent rain from making its way inside.
Some may even be more cautious by stitching the old fabrics to the inside of their backpack. However, this is next-level thinking, especially if you're doing something as challenging as waterproofing a canvas backpack!
5.Ziploc Bags
Ziploc bags come in quite handy if you only have a few small but fragile items to protect. If you are scared of your electronics and cash drenched in mud after one walk through the forest, don't forget to pick the right-sized bag and squeeze all the air out to save space!
Thus, this waterproofing method is most suitable for those who travel in constant rain and cross many bodies of water.
6.Garbage Bag
Garbage bags are pretty easy to acquire. They're sold in all supermarkets and are pretty affordable. Sometimes the solution to your problem is right in front of your eyes!
Use the garbage bag as a method to waterproof your belongings and repeat the steps you do with the pack liner, only this time without drawing the string, but finish with tape. Furthermore, if the trash bag is extra large, you can fold its sides to provide your rucksack with an extra barrier.
However, folding can cause quite a mess, so we suggest you fold the garbage bags and stuff them with your things before placing the entire ensemble inside. When the sides start to unfold on their own, secure them with tape, and you're all set!
Aside from protecting your clothes and equipment, a waterproofing backpack also protects you above all else. Remember that wearing a damp backpack close to the body can lower your temperature and makes you more vulnerable to sickness.
In conclusion, by keeping your bag and belongings safe from the environment, you're also keeping yourself from contracting illnesses caused by lower body temperature.
Outro
And there you have it: a super doable guide on how to get a waterproofing backpack and what to do if your bag doesn't have that built-in feature. Now you'll never have to worry about blow-drying your books dry after a sudden shower or wasting money on your infiltrated electronics ever again!
See More : How to Waterproof a Backpack